Silas Gransden was the youngest of the 11 children of Robert Wood Gransden and Mary Anne Gransden (née Stone) and was baptised in Alverstoke, Hampshire in 1829. Two of his brothers, Robert and Edwin, migrated to Australia and it is possible that Silas, who became a merchant seaman, ended his days there, possibly in sad circumstances.
Silas does not appear in the 1851 or 1861 English censuses. The records vary in completeness for those years, however, he would have been aged around 22 and 32 and was probably at sea. Merchant Seamen's records indicate his ticket number 291,752 with a post as a Boy on HMS Victory in 1846 (aged 17). At the age of 23 his elder brother was already at sea and by 1841 had arrived in New South Wales. His brother Edwin similarly arrived in Australia in 1855 as ship's crew (on the Washington Irwin). By the late 1870s Silas was on merchant ships sailing between New South Wales, Victoria and New Zealand. However, before that, Silas had married.
Silas Gransden married Charlotte Stone in 1859. Silas was 30 and Charlotte 32. Charlotte was already a widow with children. She was born in Gosport, Hampshire, to parents Thomas and Eliza Stone. Her father was a tailor. So too was her first husband, Charles Young of Twyford in Hampshire whom she had married in 1844 when their respective ages were 23 and 17. Together they had six children, all but the last one, Jessie, were boys. At the 1851 English census Charlotte was living with Charles in Twyford, with three young children and a servant aged 14. Sadly Charles Young died in 1858 at the age of 37 when Charlotte was 31. At that time only two of her children were still living – Charles aged 12 and Jessie then only two years old.
On September 8th 1859, less than a year after Charles' death Charlotte married Silas Gransden, by then a mariner, probably a merchant seaman. Charlotte subsequently gave birth, in 1860, to a daughter Louisa Augusta Gransden, baptised in July. (Silas had an elder brother James Augustus Gransden and an aunt Louisa Stone). At the 1861 census Charlotte was recorded living in Portsmouth with her, nine month old, daughter Louisa, and "son in law" Charles, a ship's boy, and "daughter in law" Jessie. Charlotte is described as a "Seaman's wife". The only child of Charlotte and Silas, Louisa, died in 1861.
Subsequently, Charlotte had a brush with the law. At Winchester County Court in 1865 she appeared before the magistrate, Admiral Nevill, accused of picking pockets – specifically of stealing a purse containing three shillings and six pence, the property of Charles Farmer, a labourer from Twyford Moors. The newspaper report explained that on 3rd July 1865 at about 5 o'clock in the evening Mr Farmer went to the Dolphin Inn, at Twyford, with one George Blake. (Incidentally, the Dolphin Inn was a well known staging post for travellers between London and Portsmouth. It was only recently converted to apartments). Farmer and Blake met Charlotte there and she told them she was "hard up". Farmer gave her some "victuals and beer, and also a shilling" as she claimed difficulty in paying her rent. The three drank together until about 9 o'clock. It was just after Charlotte had left the premises that Farmer noticed that money and his purse from which he had paid for purchases in the Inn had gone from his trouser pocket. Witnesses including Blake and Mary Ann Littlefield (the wife of the landlord of the Dolphin) confirmed that Farmer was "quite sober". Police-constable Steed later apprehended Charlotte at the St James's Tavern in Winchester, whereupon she said there was only one shilling in the purse and that she "took it for a lark" meaning to return it. The purse was found in her room. On the following Saturday, 12th July 1865, at the Assizes at the Castle of Winchester "Charlotte Young otherwise Gransden" was found guilty of larceny and sentenced to six weeks' imprisonment with hard labour. Clearly she was living on her own at that time in poverty.
It is likely Charlotte's time in prison was neither pleasant nor comfortable. Immediately upon the end of her sentence she was in trouble again. The Hampshire Chronicle newspaper on 26th August 1865 reported the events (mis-spelling her name)
"Attempted Suicide. – Charlotte Granson, a thin, tall woman, about 45 years old, was brought before the Bench on a charge of attempting to commit suicide by means of red lead. Last Tuesday evening the woman went into the Green man public-house, Southgate-street, and called for a glass of ale. She then stated that it was her intention "to do away with" herself, and, putting a powder into the glass, was about to drink the ale off, when a carpenter named Burroughs, who chanced to be there with others, snatched to glass from her hand, and then threw the contents away. He also took two other packets from her, labelled "Poison," and consisting of white precipitated powder and sugar of lead. She was taken to the police station, where she declared that if she could not poison herself then she would do it next day. She said one of the packets contained arsenic, and that she had only come out of prison that morning. The female now expressed herself sorry for what she had done, and promised not to repeat the attempt – if such an open and declared intention has a semblance of an attempt – upon her life. She was committed to the City Sessions for trial. It had appeared that the woman had been convicted and sentenced to six weeks' imprisonment for robbing her lodgings at Gosport".
Charlotte came to trial again on October 21st 1865. The press reports included the following.
"ATTEMPTED SUICIDE. – Charlotte Granson, an elderly woman of haggard appearance, pleaded guilty to a charge of attempting self-destruction on 27th August. The learned Recorder expressed sorrow at seeing the prisoner in such a position, and said he had some difficulty in arriving at a decision respecting the sentence he should pass upon her. It was a very serious offence and one that was much on the increase in the country at the present time. He trusted, however, that very lenient sentence he was about to pass would deter her from making any similar attempt in the future. In the event however, of her doing so, and being convicted before him, he would most assuredly award a punishment of not less than two years' imprisonment; but, under all circumstances, the sentence he should now pass would be one of six weeks' imprisonment".
(An attempt to commit suicide was not decriminalised in England until The Suicide Act, in 1961 almost a century after Charlotte's conviction.)
The next significant event is the marriage of Charlotte Gransden to James Colliss variously recorded in census returns as a fishmonger or beer retailer. This marriage took place in the Parish of St John, Winton on 10th October 1868. Charlotte Gransden is recorded as a tailoress and widow aged 42. Did she believe Silas had died, or was this a case of bigamy? Charlotte's third husband died in 1870 at the age of 49. Charlotte Colliss died in 1880, and since she still bore the same surname presumably had not remarried.
So what can be established about Silas? He seems to have been present little in Hampshire since his marriage to Charlotte. The naming of his daughter after his aunt and brother suggests he was present by the time of Louisa's baptism or at least was maintaining significant contact. There are few other records relating to Silas. By 1866 he was in Australia living at Mrs Taylor's Boarding House, Margaret Street, Sydney. At that time he placed and advertisement in a local newspaper in February seeking contact with his brothers Robert and Edwin. He signed the notice: "Mr S Gransden".

Several records document his post on merchant ships sailing between Australia and New Zealand:
• August 1866 Hokitika and Grey (New Zealand) to Sydney (crew)
• May 1868 Melbourne to Sydney (crew)
• June 1876 Hokitika to Sydney (crew)
• October 1876 Hokitika to Sydney (crew)
• February 1877 Hokitika to Sydney (crew)
Arrival on the Albion

He was generally described as the member of the crew responsible for lamps, such as navigation lights.
Hokitika on the west coast of New Zealand's south island was little more than a shanty town in 1864, but by 1866 was a bustling commercial centre owing to gold mining and the influx of miners from the gold fields of Australia and beyond. Its port was treacherous with a boat sinking every ten weeks in 1865 and 1866. (Incidentally, another Gransden, William Rowland Gransden, was a gold miner in the region from the 1860s until his death there in 1912. He was born in England and brought up in Ireland. It has not yet been possible to establish a link between this William and Silas. Could they have met? Were they even related?)
A few subsequent records refer to a Mr Samuel Gransden. However, they sound remarkably as if they relate to Silas. Did he change his name, perhaps informally? There are no other Samuel Gransdens in any record in the period 1820 – 1880 that are consistent with these subsequent records.
In October 1879 a Mr Samuel Gransden was reported in local press in Port Melbourne in dispute with a Frank Woodward over boarding and lodging fees and was awarded five shillings. In December 1879 and January 1883 Samuel Gransden appears in rate books for the Borough of Sandridge, Melbourne. He was described as a mariner.
The final documentation relating to Samuel Gransden are those recording his death in 1884. An Inquest was held in Port Melbourne on 7th November 1884. Samuel had been found in his lodgings one evening after a shot was heard by his neighbours. He was found fatally wounded with a pistol that had been fired into his mouth. He had written a note that was found next to his body. Writing in a steady hand and signing it "S. Gransden" he bemoaned his lack of money and the failure of a man to pay back debts owed to him and his refusal to enter into debt himself. Only one page of the note remains, but it includes these lines:
" . . .a great many people think I am well in because I am steady and dont drink and so I should be if I could only get my rites what other people owe me. . . . . . . but I have spent my last shilling I never knew what it was to owe a penny to anyone and I am not going to try to borrow from one man.
S Gransden"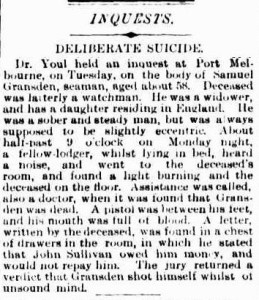 One of the inquest witnesses described Samuel as a "seaman, lately a watchman". He was reported to be a widower, a steady and sober man, aged about 58, with a daughter still in England. These points are largely consistent with Silas' life considering they are related by an acquaintance. The Coroner and Jury concluded that Samuel Gransden "shot himself when of unsound mind".
Although not conclusive, the facts do suggest that Silas and Samuel Gransden were the same person.
Silas Gransden (or was he also Samuel Gransden?) had no descendants, however, the given name "Silas" remained in the family for three generations through two of Silas' brothers. Silas' brother Charles had a son named Silas born in 1854 who in turn had a son Silas born in 1882 and he in turn had a son named Frederick Silas Gransden born in 1912. Another of Silas' brothers, John had a grandson named Silas Gransden Sinclair born in 1872.
Bill Gransden
Dorset
England
Updated January 2016
© Bill Gransden January 2016