In a box of old photos that were handed to me for all of 10 minutes to do a quick scan was a few photos that were a bit unusual.
I had not thought that I would ever identify more than one or two of these photos. I had, early on identified one as Robert Gransden. He had been easy as another relative had a similar photo and we had been able to compare them and confirm. There are a few other photos that are of similar looking people that are obviously Gransden family members. Over time I will, no doubt, begin to identify who they are. But the vast majority of the photos I have no idea of even where to start.
Today I decided that it was time to identify one of those photos. I wanted to know if it could help me to place one of my ancestors in Victoria in the early 1860's. Edwin Gransden had worked on Edward Stone Park's Run. Edward Park had been the Aboriginal Protector for the area, so if the photo that I had could be identified to a time when Edwin was on Edward's run, then it would give me more of a sense of how close his contact with the Indigenous group was. So I decided to put the photo that I had, up onto the 'Unknown Photos of Australia' FaceBook site.
Within a short time, I had responses, asking questions and making suggestions. One of the first things we looked at was the boys spotted skin. On researching, we quickly found that the skin discolouration he had was called Vitiligo.  This information gave us some different directions to research in. Another person pointed out that the boy's boots looked pretty good and that he looked like he may be a boxer rather than an itinerant worker.
Shortly after that, it was pointed out to me that the features of the boy were not Indigenous Australian, but rather more African. I can't determine faces very well, so I am unable to pick up regional differences like that.
Further searching revealed another photo of the same boy but about ten years later. It was possible to determine that it was the same person because of the pattern of spots on his torso, face, and arms due to the Vitiligo. This photos came up on that of a 'Circus Freaks' page. I then found another photo, doing similar searches using the words Troupe and Freak, etc, of the same boy younger, but this time with a large snake.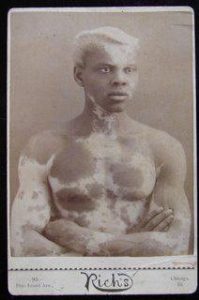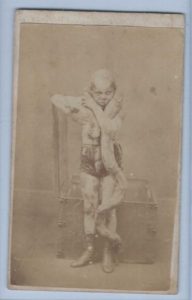 Finally the Jackpot. Another researcher found a name, 'The Leopard Boy.' Along with that name was another photo and a history of the boy. All of which meant that I could then search for him on Trove and find an article about his travels in Australia.
http://www.sideshowworld.com/81-SSPAlbumcover/Spotty/Piebald.html
http://www.sideshowworld.com/81-SSPAlbumcover/Spotty/Mungo/Park.html
After we found a name for Mungo, it was easy to go to Trove and find when he was in Australia.
Some years ago one of our explorers was heartily laughed at for stating that spotted aborigines had been seen in the far interior, and though the exception cannot be said in this instance to prove the rule, it would be well for those who doubt the existence of such queer people in this world- to inspect the " spotted boy" now on view at the waxworks, Bourke street.) This young gentleman, who, is said to be eleven years of age, though he appears to be considerably older, is a native of Caffraria, and for some, time formed one of the chief attractions in the collection of Barnum. He has come to this, country in company with a dwarf lady, 31 inches high and 19 years old who besides being shorter than Miss Minnie Warren, has a much more comely figure and attractive face. Mungo Park, for such is the name of the " spotted ' boy," is certainly a good show. .With the exception of one while spot on his cheek, his face is perfectly black, but his curly locks are not uniform in color, a large white patch being visible on the top of his head, at the sides and back of which his head is quite white, the colour of his. eyebrows and lashes being also mixed.
His shoulders and the skin over the collar bone are also black, but the lower part of the chest is white, scattered-over with black spots, the cuticle being as soft as that of a child. His arms are, perhaps, the most curious part of his body, one of them being variegated much like a boa constrictor, while his legs are a mass of spots. He was on Wednesday examined by a well known medical man who states that the variegations are natural, and that the boy is perfectly healthy.
-Telegraph.
1875 'THE SPOTTED BOY.', Avoca Mail (Vic. : 1863 – 1900; 1915 – 1918), 8 June, p. 3. , viewed 18 Feb 2017, http://nla.gov.au/nla.news-article202697214
So the boy in the photo is called Mungo Park. His stage name is 'The Leopard Boy, ' and he was in Australia around 1875. All for the price of asking. Such an amazing result.
All of the photos in this article should be out of copyright and in the public domain. However, I was unable to locate correct sources for the photographs. Most of them were on Pinterest with no attribution. If there is a problem with the use of any of the photos please contact me. The top one is in the Gransden Family personal collection. It is the two below that I do not have details of.