This post is going to be a series of posts about a dress that I made over a year ago that was based on an unknown photo in my Great Aunty Margarets collection. The photo was one that she had received a while ago, it was probably taken in Orange, but I don't know because when I was given the photographs to scan I didn't know about making sure that I scanned the backs as well as the fronts of the photographs. The box held a large number of photos, some of which I could identify were of family members and some that were of famous people of the day. Many of the photos are still unidentified.
One of the photos caught my attention. So far, my attempts at identifying this photo suggest that the woman in the photograph may be one of my three times great grandmothers.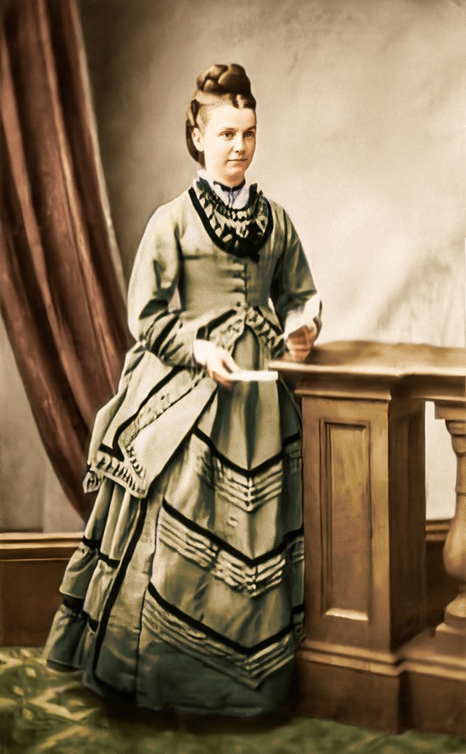 I decided to use the dress in this photo to try and find out more about the woman in the photo. Even if I never identified the the woman the research that I could do to understand the photo and the woman are comprehensive. But, because I also want to make this post relevant to family historians, first a little bit about dating photos based upon dress.
History of Clothes in the 19th Century
Women's Wear of the 1840s-1850s
Women in this period typically wore a close-fitting bodice with a full skirt and sleeves. The skirt was shaped through the use of lots of petticoats or through the use of a crinoline. A crinoline is usually made out of horsehair and linen and then stiffened with steel, cane or gutta-perch.
Sleeves were off the shoulder and both collars and sleeves, particularly for under-clothing were often detachable.
Dresses during this time were aimed to give a woman the Victorian ideal of a meek and delicate woman with a pale complexion and of passive behaviour. However, in Australia, and many other parts of the world, despite appearances this is not what a woman was. Having to work in rural areas and undertake back-breaking physical work while looking after children meant that the ideal and the reality were often far from the same.
Dresses during this period were often made at home and were usually hand-stitched. Although sewing machines had been invented in the later 1700s, they did not start to become readily available or cheap until after the 1850s. For women in Australia, they were extremely rare until the middle of the 1860s when Singer established a factory in Australia.
In addition to the overall clothing of the 1850s, women wore deep bonnets and their hair was usually in a bun or coils with a centre parting.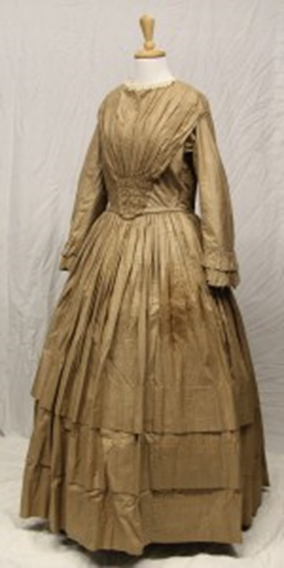 Menswear of the 1840-1850's
Menswear was usually ready-made. Clothes had a long thin line with narrow sleeves and a fitted look. It was much more common for men's clothing to be readily available rather than made at home. Many men were away from cities for a long period of time, particularly in Australia. They made trips to the city for a short space of time and they were often on the move. There was also a huge gender imbalance in Australia. So, having clothes ready-made and able to be purchased made a lot of sense.
Along with the long slim line of the coat, trousers were relatively tight, waistcoats were fashionable and collars were upstanding with neckties. At this time the sack coat- a thigh-length loosely fitted coat become popular. As the decade progressed everything in male fashion became more exaggerated. In Australia, much of this was due to money from gold mining changing who had access to wealth. Suddenly those that had never experienced wealth before may be able to make their fortune at the digs and men who made their fortune wanted to show that fortune in their clothing, this was a time of conspicuous consumption.
In the 1850s the Bowler hat was invented and gradually overtook the popularity of the top hat. In the early 1850s, the Bowler was very much a working class hat. It had been designed initially to protect gamekeepers from low-hanging branches. However, over the next few decades, the Bowler became universally popular as male attire.
Part 2- Clothing in the 1860s-1880s.
Bibliography
1840-1849- Fashion History Timeline, 2020 https://fashionhistory.fitnyc.edu/1840-1849/
Australian History Research, 2022. Victorian Fashions. Norfolk Island. https://www.australianhistoryresearch.info/victorian-fashions/
Frost, L. Dating Family Photos 1850-1920. Valiant Press Pty Ltd. Victoria, Australia
Gold Museum Ballarat, 2018. A Victorian Dress http://www.goldmuseum.com.au/a-victorian-dress/
Just History 2021 Historical Fashion: Victorian Women's Clothing https://justhistoryposts.com/2021/10/17/historical-fashion-victorian-womens-clothing/
Singer Sewing Machine. 2022 Powerhouse collection. https://collection.maas.museum/object/256560#:~:text=Singer%20had%20established%20an%20Australian,SEWING%20MACHINES%20IN%20THE%20WORLD
Sovereign Hill Education Blog- 1850's Fashion in Australia 2018. https://sovereignhilledblog.com/2018/06/19/1850s-fashions-in-australia/
V&A Museum- Collections. https://collections.vam.ac.uk/
V&A History of Fashion 1840-1900 http://www.vam.ac.uk/content/articles/h/history-of-fashion-1840-1900/
Working woman's day dress, circa 1840's (Gold Museum collection, 80.1294) http://www.goldmuseum.com.au/a-victorian-dress/