On the 30th of March 1945, George Stark died leaving Fernleigh to his sons Kenneth Lawrence Stark and Arthur Campbell Stark. Once again Fernleigh was sold, this time to Mary Jane Elizabeth Clark and Eric Charles Clark.
The Clarks had already been living in Meadowbank, on Bowden Street. Mary was working as a nurse and it is probable that it was this family who first thought of using the large home as a hospital. Eric was working as an electrician, which would have worked well as a way of maintaining the house. However, Eric Clark died shortly after the couple moved into the house and the house was sold in 1947 to Ivy Niland.
Like Mary Clark, Ivy Niland was a widow. Her husband, William Martin Niland a local solicitor had died in June of 1945. The couple had lived in Waverly before William had died. After his death, Ivy had moved for a short time to Mosman. However, Ivy purchased the Fernleigh property and decided to open up a rest home. The first indication that Fernleigh has actually become a nursing home of some type is an entry in the 1954 electoral roll which shows Ivy Niland as a Rest Home proprietress.
Ivy remained at Fernleigh, running the nursing home until 1961. At this stage, the Fernleigh property is broken up. Previously, Fernleigh had included all of the lands within the boundaries of Constitution Road, Station Street, Sherbrooke Road and Mons Street. The early Meadowbank Estate subdivisions had originally planned to break this area up into four smaller blocks, however, they had been purchased as one. With the death of Ivy Niland, the earlier planned break up finally occurs.
During this time the Fernleigh property still reaches from Sherbrooke Road to Constitution Road, but the long driveway to the house is hemmed in by properties on either side.
The Fernleigh Property is now divided up among a number of people and companies. Patricia Mary Foley of Maroubra and Nolene Marie Crowley of Mosman become tenants in common of a portion of the property. Florence Nominees Pty Ltd and Pentagon Investments Pty Ltd own the rest of the property, also as tenants in common.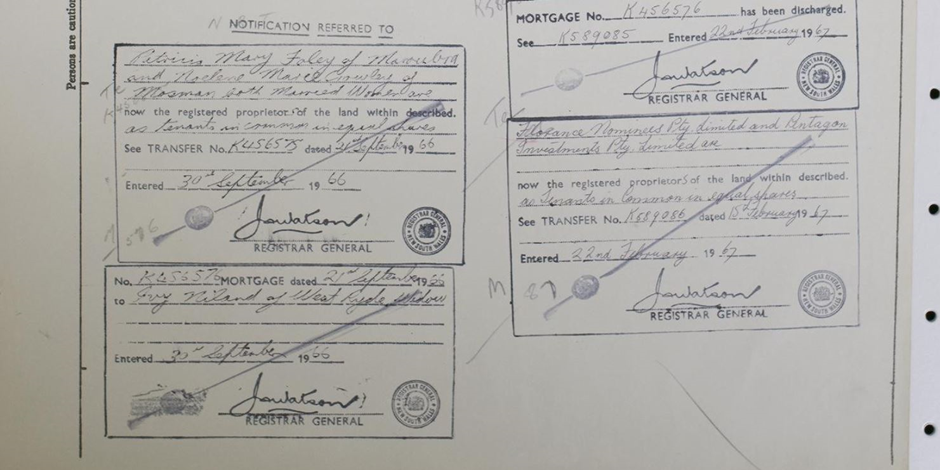 By 1961 there are more people owning a portion of the Fernleigh property. The Cassady's own 107 Constitution Road, the Rylands, and Shepherds own 105 Constitution Road which is the address of the Fernleigh House. The opposite side of the block, at 8 Sherbrooke Road is lived in by Richard Nobbs and his wife who is a nurse. They reside with another nurse Theresa Mary Camillus.
By 1968, Ruby Violet Ward and her husband Harry Herbert Ward are living at, and own, 8 Sherbrooke Road. They are living with Elsie Pamela Mountney and Kenneth William Mountney. Both women are nurses, while the men are plant protection officers and clerks. At this stage, it is highly likely that both couples are working at Fernleigh and operating the house as a nursing home. Certainly, at this point in time, the Fernleigh house is the property of Ruby Violet Ward.
In 1977 the house once again changes hands. At this stage, the address of the property where the house is situated is 105 Constitution Road, lived in by Kenneth Leslie Shephard and Lilian Alice Shephard. 8 Sherbrooke Road now has two different residents, number 8 and number 8a. 8a is still tied to the main house with Lleida Wild, resident of 8a, being a forelady.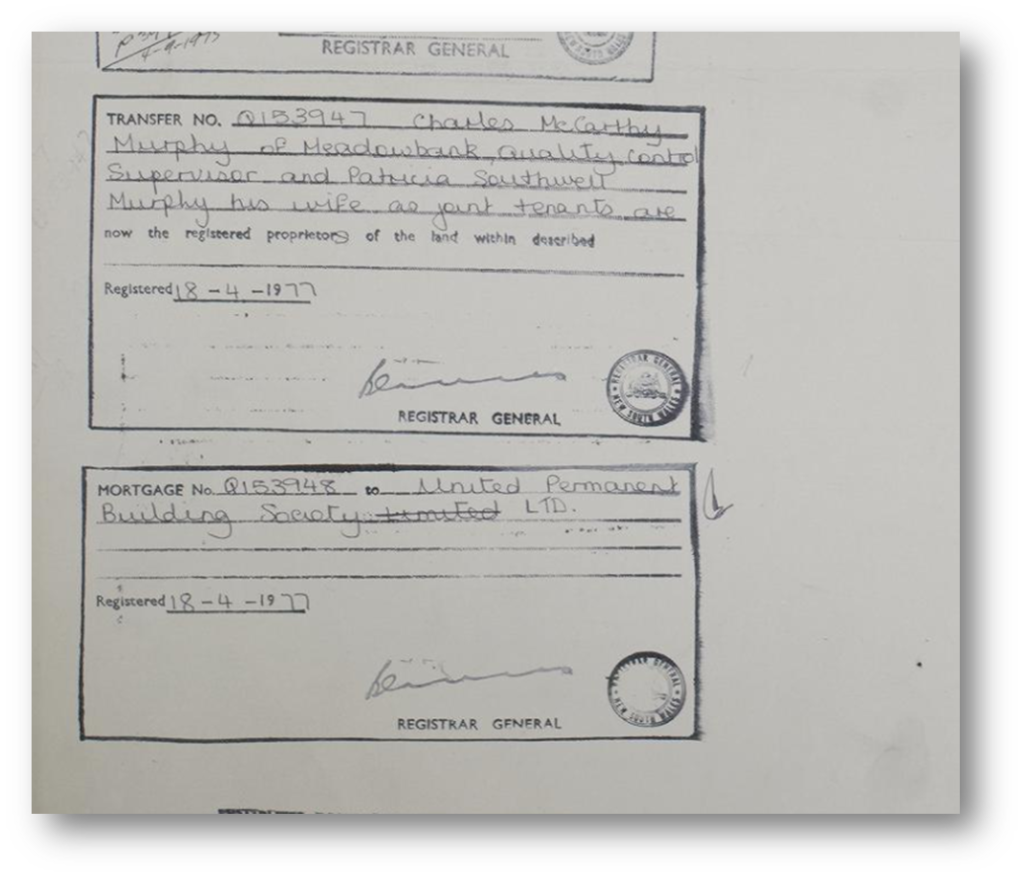 Sometime between 1964-1967 and 1968, the frontage of Fernleigh is moved from Constitution Road to 8 Sherbrooke Road. At the same time, the house is extended through a red brick addition.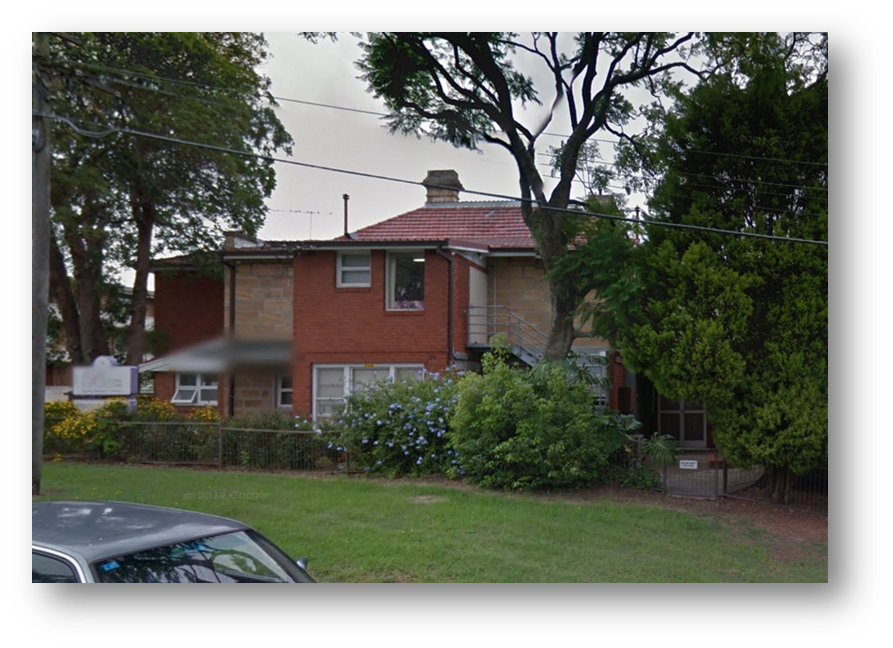 At this time Fernleigh starts to be promoted through large ads placed in the Sydney phone books.
Fernleigh was successfully run as a nursing home for a number of years. But, by 1982 there was an application to transfer the license of Fernleigh Nursing Home, 8 Sherbrooke Road, West Ryde from Joseph Arthur James Barrington and Lawrence James Adler to Moran Hospitals Pty Ltd. Fernleigh was registered as a general class nursing home licensed to accommodate 93 patients.
Adler had made money through insurance companies. He bought a string on insurance companies and later started to move into nursing homes. It is not certain when he obtained Fernleigh, however, it was probably during a merger or takeover as there does not seem to be any other record with Land Titles, other than the Niland purchase. So it is probable that this was part of a larger property swap.
Moran was a sort of rags to riches story. Moran worked towards making his money in real estate. He when he was married a nurse called Greta King, so Moran went into nursing homes. He built up this business and was extremely successful.
Moran has a difficult reputation, in particular, he was seen as extensively money-hungry, making comments about "elderly bludgers". He was influential in the Howard Government until his attitude meant that the Government had to pull out of supporting him as he was becoming electorally unpopular.
Moran Aged Care became part of the MFS Group, a large financial group in the US. In the 2000's Principal Aged Care, now part of the Domain Aged Care group also came under the MFS banner. At this time there was a dispute between MFS and Village life, another provider of aged care services. This left hundreds of elderly pensions with no homes.
In 2008 Domain Aged Care changes its name and now comes under the Opal banner. This has not stopped the bad publicity that has so far dogged the company. This has been particularly evident in the late enquiry into nursing homes.
The inquiry into tax practices of for-profit providers of age care services report found that in 2015-16 the six largest for-profit aged care providers including BUPA, Opal Aged Care, Regis Healthcare, Estia Health, Japara and Allity received over $2.17 billion in government subsidies, made after-tax profits of $210 million and paid around $154 million in tax.
Opal and Allity paid no tax in the year 2014-2015 and Allity also paid no tax the following year, according to the report.
As part of Opal's plans for Fernleigh Nursing Home, the original building was pulled down in 2019.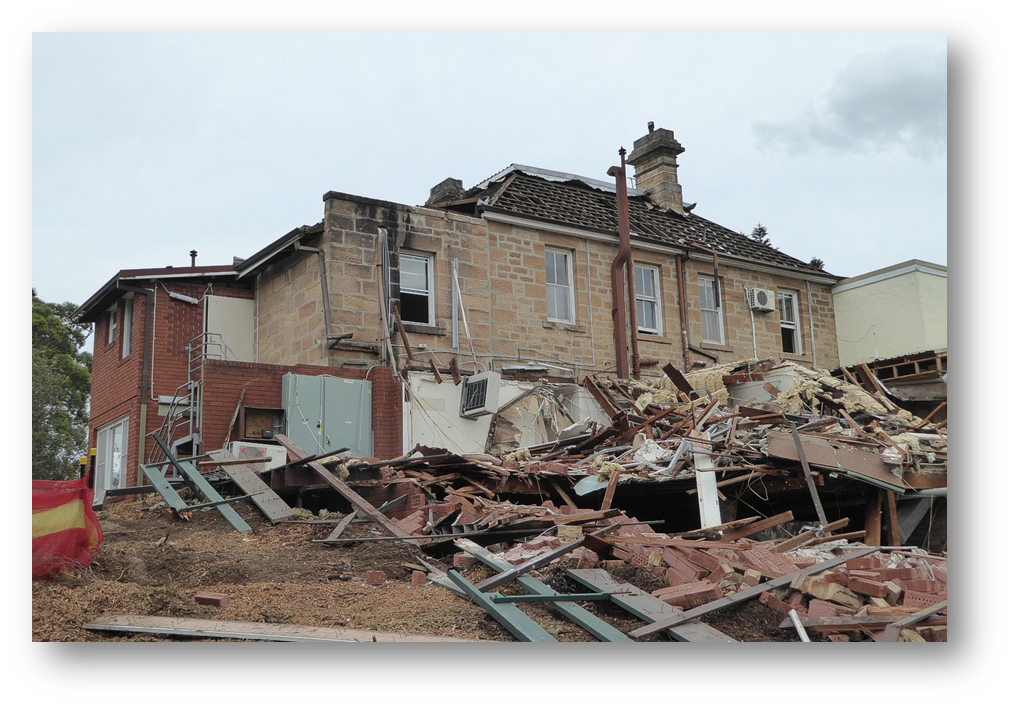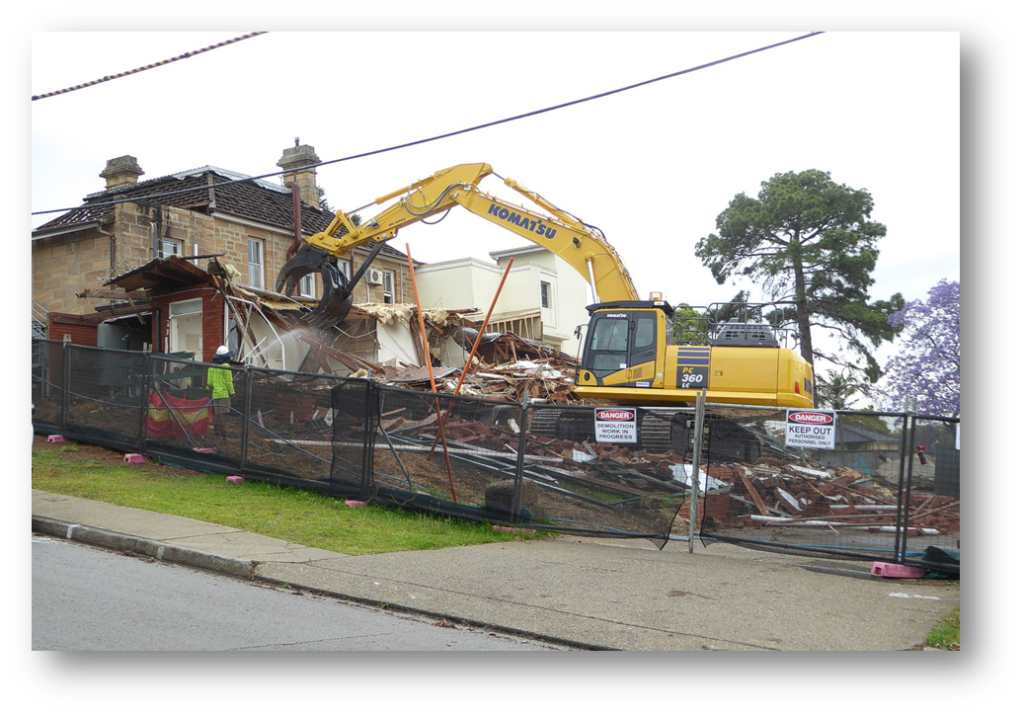 Today, all that remains of a once beautiful old home, with a long history in Meadowbank, is a part of the original front gate which leads out onto Constitution Road. The gate post sits between two large blocks of units and is a relic of the past.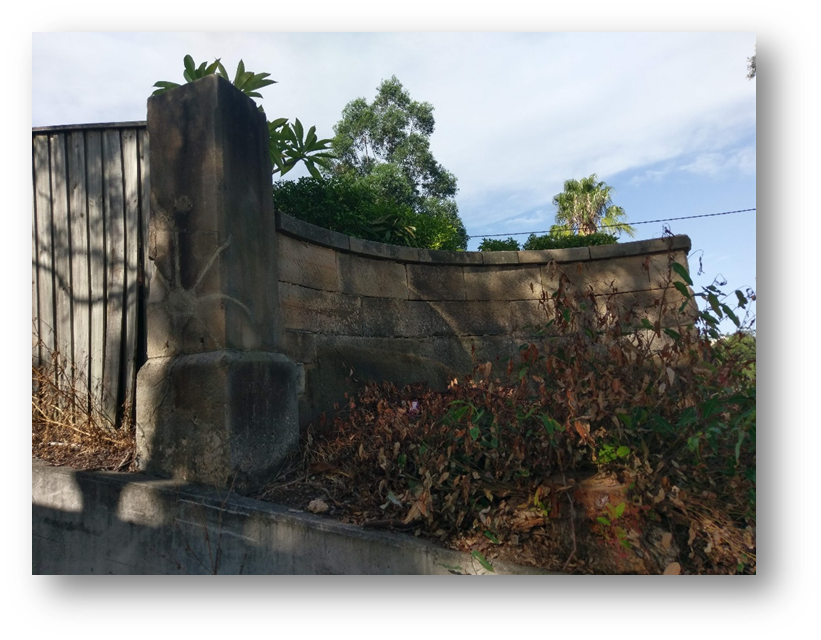 With the destruction of Fernleigh, the commencement of the building of the new structure that now takes the place of Fernleigh was started.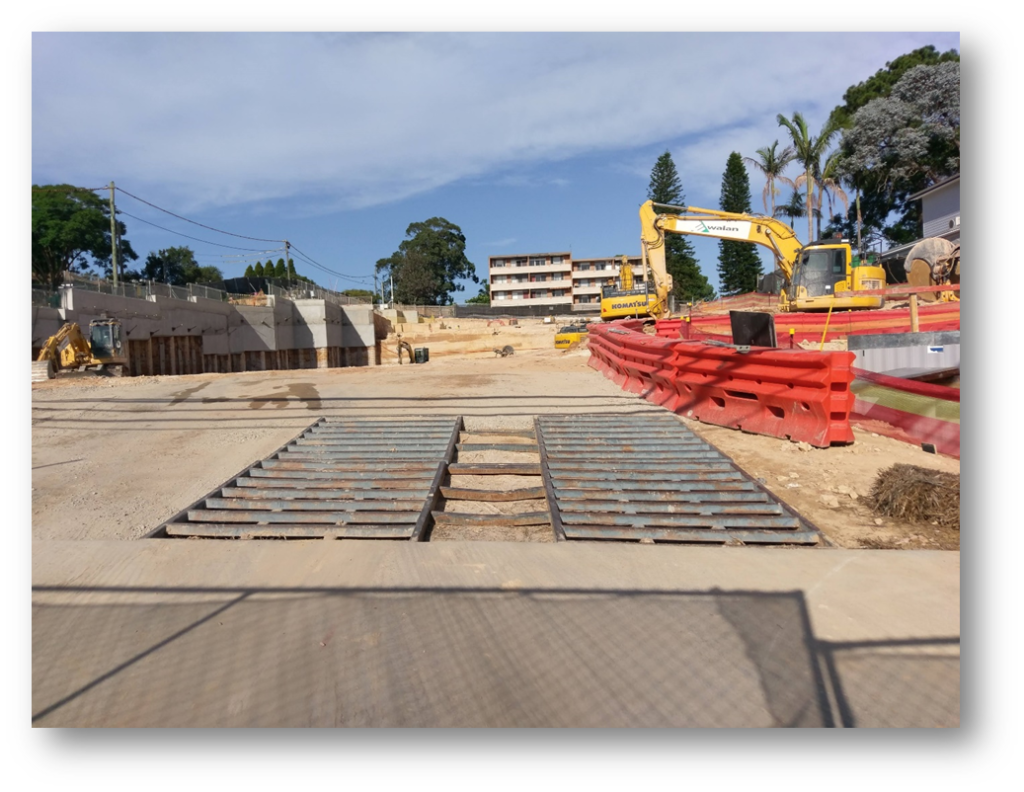 Meadowbank Grove, as it is now known, has been completed. While there are potentially some nods to the original house, in the sandstone blocks and even the house as it was in the 1960s with the red walls, the loss of one of Ryde's early homes is a considerable cultural loss.