Edwin Gransden- Greenwich Pensioner
I found Edwin Gransden in a different way to finding George Lockwood. Unlike George, I wasn't looking at census papers. Initially, I was trying to find Edwin Gransden's arrival in Australia. Eventually, I found Edwin as a member of the crew on the Washington Irving arriving in Australia in 1855.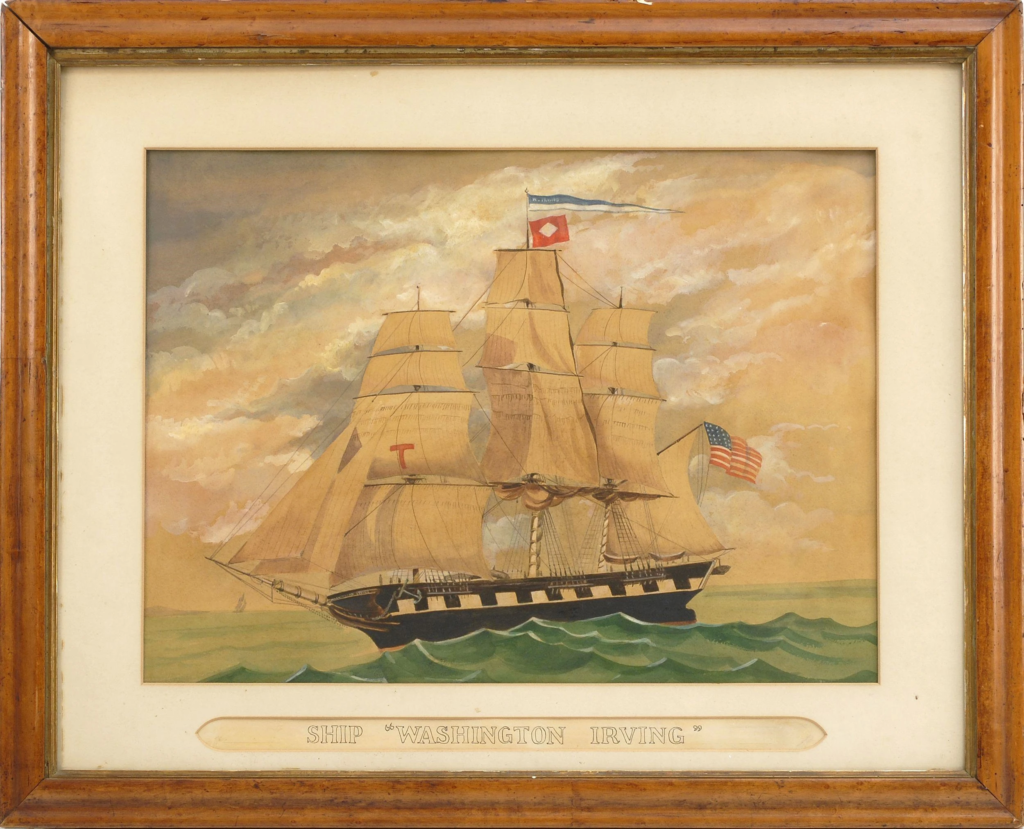 This early small piece of information made me start looking into how I could find out more about Edwin's position as a member of the crew. How had he become a member of the crew? Had he sailed elsewhere, was this his first ship etc?
Researching the Merchant Navy is not easy and it is almost impossible to get some of the records in Australia, or at least it was more difficult than it is now. Ancestry was starting to put some of the records up as I was searching, but in this case, I engaged the services of a genealogy researcher in England to go and do some digging for me at the National Archives in London. Peter from Forefathers Research did an excellent job for me. Unfortunately, he is no longer undertaking research.
The original aim was to find out what ships Edwin had sailed on in England. This wasn't as easy as it sounds. What we found, is that Edwin has sailed in the Merchant Navy for a few years between the ages of 16-18. Then Edwin had ended up in the Royal Navy for a couple of years before moving to Newcastle where he seemed to be continuing in the Merchant Navy. Finally, Edwin then immigrated to Australia, on a ship that he was a crew member on.
It was while researching this move into and then out of the Navy that I found out about Edwin's pension. Like with George Lockwood earlier, I hadn't realised that there was a difference between a Greenwich pension and a Chelsea pension, one to write about later, but finding the pension was pretty exciting.
Using the pension documents, I was able to find out that Edwin had sailed on two ships, the Firebrand and the Gorgon. The Firebrand was the main ship that Edwin had sailed on and was exciting because it was part of an experimental fleet that was using paddle steamers on some of the ships, including the Firebrand.
https://collections.rmg.co.uk/mediaLib/3/198/144/py0917.jpg
https://collections.rmg.co.uk/collections/objects/140864.html
Edwin's time on the Gorgon, also a paddle steamer, was probably just his transfer from the Firebrand to the hospital. Edwin was injured during the battle of Obligado in Brazil. To date, I have not been able to find out specifics about Edwin's injury.
Edwin was given a partial pension, not a very large one as he had only served in the Royal Navy for a short time. He became an outpatient and moved to Newcastle. Whatever Edwin's injury it obviously made him unsuitable for work in the Royal Navy but not in the Merchant Navy as he obtained his Merchant Navy ticket and continued to work on ships around the Newcastle area. Edwin did this until he immigrated to Australia.
Edwin's pension was transferred to Australia with him and appears to have followed him to Sydney, Melbourne and finally Rockhampton. Certainly, the knowledge of Edwin's death was noted in the pension books as the reason for cessation of his payment. There is a comment about his payment being transferred but, to date, I have been unable to find relevant documents in Australia to see how that transfer was managed.
Edwin only travelled on one other documented ship once he immigrated to Australia. On his move from Victoria to Rockhampton in Queensland, Edwin is recorded as working on the same ship as his brother Silas Gransden. It is probable that this is how Edwin and his wives moved from Sydney to Melbourne and later from Melbourne to Rockhampton.
Finding Edwin's Greenwich pension helped me to find out so much more about Edwin than I could have hoped to ever find out without those records.
Ancestry.com Wo 22 – Royal Hospital Chelsea: Returns Of Payment Of Army And Other Pensions 1842-1883
Ancestry.com. UK, Naval Officer and Rating Service Records, 1802-1919 [database on-line]. Provo, UT, USA: Ancestry.com Operations, Inc., 2014.
FindMyPast Merchant Navy Seamen BT114 http://search.findmypast.co.uk/record?id=tna%2fmsea%2fbtoth%2f4620365%2f00548&parentid=tna%2fbt113%2f2132922312%2f1
National Archives British Royal Navy & Royal Marines service and Pension Records, 1704-1919
National Archives ADM 38-8197 Muster Book of Her Majesty's Ship Gorgon
National Archives ADM 38-750 Muster Book of Her Majesty's Ship Firebrand 1 April to 30th June 1845
National Archives ADM 38-752 Muster Book of HMS Firebrand 1st Jul 1846-30 Sep 1846
National Archives ADM 38-752 Muster Book of HMS Firebrand 01 Apr 1846-31 Dec 1846
National Archives ADM 38-8110 Description Book of HMS Firebrand 07 Sep 1844- 17 Jun 1848
National Archives Wo 22 – Royal Hospital Chelsea: Returns Of Payment Of Army And Other Pensions 1842-1883 3210 4/2 3/12/46 Seaman Edwin Gransden transferred from Southampton 31/5/50 permanent pension