Fernleigh was a house very close to where I live. I had no idea it existed until I read an obituary notice for Mary Atkins nee Annetts, my three times great grandmother.
The funeral notice for Mary Annetts read-

I like to look at the places that my ancestors have lived at. So when I saw the details for Fernleigh Ryde I went looking for a place of that name. It didn't take me long before I found an address, Fernleigh, Sherbrooke Road, Meadowbank. A few minutes later I was taking a walk to find a block of land that I thought would have nothing left of the house that I was looking for because I had never seen or heard of it and I had lived in that area for five years at that stage.
When I got to the place where the property was I was surprised to see that Fernleigh, to some extent, still existed.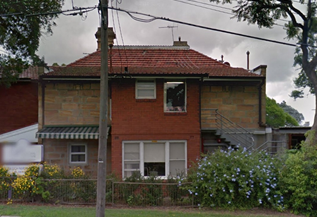 This was the beginning of a fascination with this house. There was not a lot of the original house able to be seen from the street, just a few chimneys and some sections of sandstone. Large sections of the house were hidden from view behind some more modern red brick renovations. However, I wanted to know more. What had this house had to do with our family, when did it become a nursing home and what was the land like that the house had originally stood on?
First I went searching through my personal archives and family photos and memories. There were just tiny snippets of information including the possibility that Edward Atkins Jnr had built the house and some reference to photographs of the house that belonged to our family connections. But, no one knew much about the house. There was one potential reference to the house from a collection of family letters, but the details were too vague and others had attributed the description to another house 'Eulalia' that had been known to belong to the same family. However, the description didn't really match that of Eulalia. It is possible that this description is that of Fernleigh, however, it is likely that the description is too late to be of Fernleigh.
On the basis of this information, and some information from another member of the Ryde District Historical Society, I went searching further to see what I could find out about Fernleigh.
The original site for the Fernleigh house was owned by William Balmain the assistant surgeon with the First Fleet. William was given a grant of land in 1799 which he called Meadow Bank.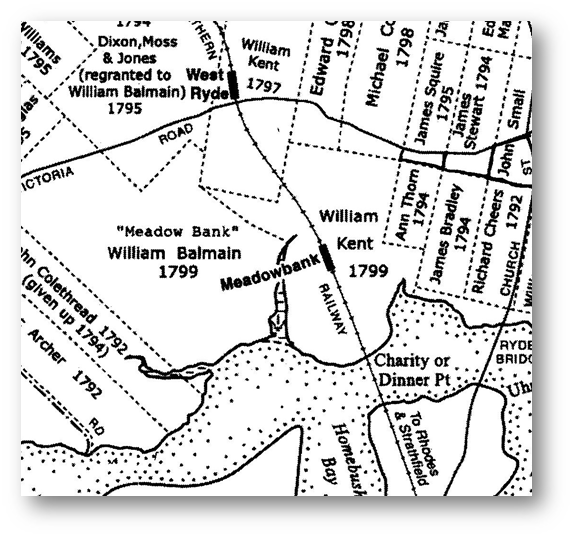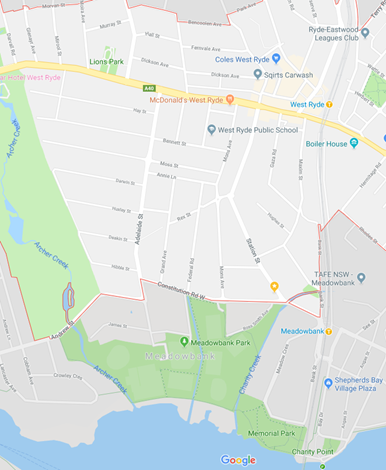 Balmain didn't stay in Australia, instead he left Wentworth D'Arcy to act in his stead, as agent, with regards to his Meadow Bank property. D'Arcy sold the property to John Bennett, however the deeds to the estate never arrived from England to confirm the sale and purchase of the property.
Bennett was an ex-convict from Ireland. He had arrived on the Marquis Cornwallis in 1796. The wrangling over the Meadow Bank property went on for many years as Bennett attempted to finalise the purchase of the property. In 1824 Bennett unsuccessfully applied to the Governor and the Supreme Court for Justice hoping to finally receive the lands that he had paid for. During his lifetime Bennett was never to see a successful outcome.
John Bennett died in 1827 and his estate, including all of the troubles that went along with it, was passed on to Captain William Andrew Bennett, the nephew of John Bennett. Finally, on the 31st of December 1838, more than 10 years after the death of John Bennett the family received formal notification of their ownership of what was then called the Bennett farm. That farm included the lands of present-day Meadowbank.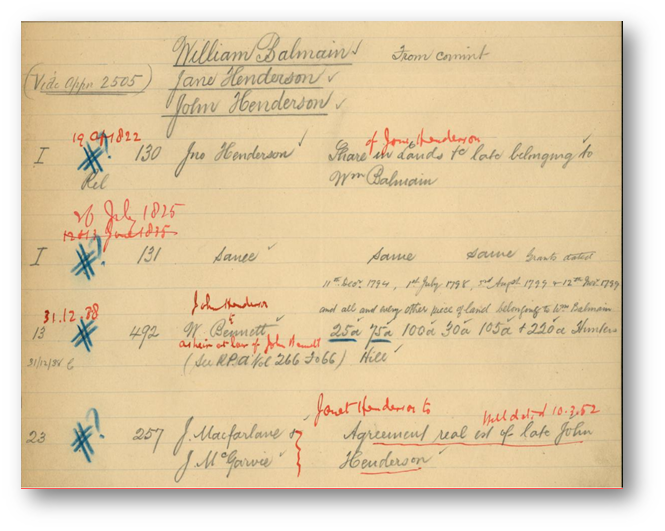 During John Bennetts ownership of Bennett farm a section of the farm was sold off to the Darvell family, a prominent family of the area. When Captain William Bennett died in 1866 and the Bennett Farm was transferred to his wife Susan Bennett. Susan Bennett lived on the Bennett farm until her death in 1883. At this stage, John Bennett, son of William and Susan Bennett subdivided the Estate and sold off sections of the farm over a number of years.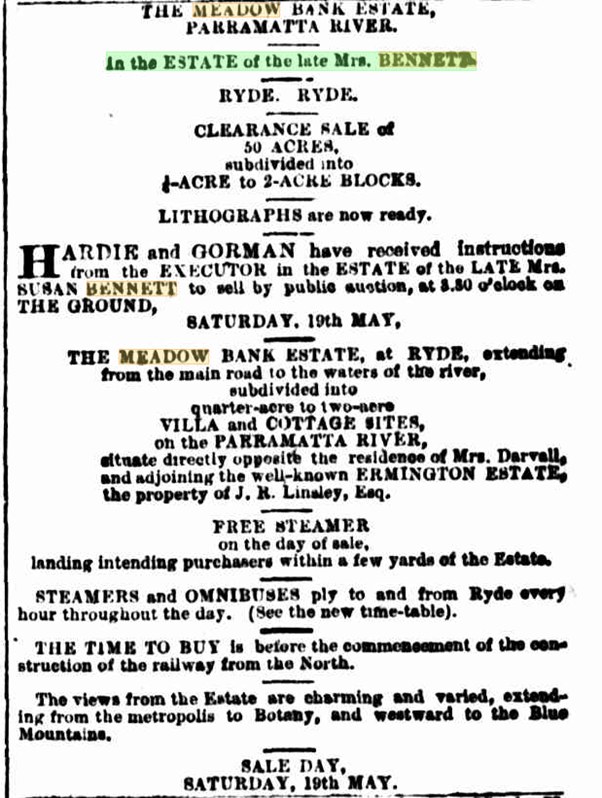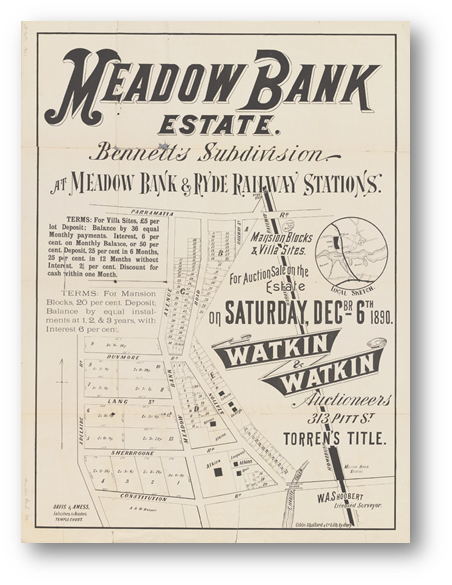 For more information on Fernleigh please see Part 2.
Fernleigh, From Construction to Destruction Part 2- Edward Atkins Junior.